During Covid – 19 restrictions all meetings have moved online via Zoom generally at 7pm but times may vary.
Throughout the year we are additionally planning to extend our online offerings including art socials, challenges, exhibitions and more.
Keep an eye out for Newsletters and return to this website frequently to keep an eye out for events as they emerge. Please note that these are subject to change as the pandemic and vaccine campaign evolve.
Friday 8th January
"Art Matters" Introducing our special Zoom social.
Update to our painting challenge "Ring out the old, ring in the new".
Ring out the old, ring in the new,
Ring, happy bells, across the snow:
The year is going, let him go;
Ring out the false, ring in the true.
Alfred Tennyson,
Share information, comment on demos, chat and show your own paintings.
Friday 5th February.
Melanie Cambridge
Exclusive demonstration for BAS Members
"Seascape in Oils" – West Wittering
I love painting seascapes and beaches. During lock down, having been prevented from going to the beach, painting fairly large scales oils, especially of my favorite place, West Wittering, has kept me sane. So come along to the seaside and enjoy my interpretation of the fabulous silver sands at Wittering, with a few figures thrown in for good measure.
With Melanie Cambridge
The video of this demonstration can be found at https://youtu.be/yeYnRNbWWj4 and will remain visible until 28th Feb. Please don't share it.
For any members wishing to follow my video of this event, here is a list of materials used.
The Colours:
Titanium White
Naples Yellow
Cadmium Yellow
Cadmium Red
Magenta (or Permanent Rose, or Quinacridrone Magenta)
Cerulean Blue
Ultramarine Blue
Raw Umber
Burnt Sienna
I also use a texture medium for impasto effects. This is available from online from Jacksons Art Supplies – Lukas Painting Butter. Link to website: https://www.jacksonsart.com/lukas-alkyd-medium-5-painting-butter-200ml-ship-by-road-only
White Spirit both for cleaning brushes and for thinning colours.
Rags or kitchen roll to wipe up excess paint and again for cleaning brushes.
My demonstration was painted on a stretched canvas sized 16 x 23 inches. I gave the already white primed surface a coat of cool blue grey gesso in advance. I used Ultramarine Blue and Burnt Sienna mixed with White Gesso. I also used masking tape to cover the edges of the canvas before priming so that when finished the canvas had a clean white edge so can be hung without a frame if required.
Brushes were from my own range: A size no. 12 Filbert, No.8 Filbert, No.4 Long Filbert and a No.4 Round Brush.
EXCLUSIVE OFFER TO BAS MEMBERS – valid until 28th February 2021
£ 5.00 off any order

If you wish to purchase any of my brushes, then these are available from my on-line art shop www.melaniecambridge-fine-art.co.uk/art-shop

Additional commentary by Adrian Fowle:
There are a couple of observations that I should like to add too. Melanie mentioned the Golden Ratio as determining where she placed her main vertical. The Golden Ratio is one of those peculiar numbers, like Pi, that pop up in multiple areas of maths and nature – and art. The size of a canvas can be in the Golden Ratio – if the longer side is about 1.62 times the length of the shorter. The composition within the canvas can be in the Golden Ratio if the canvas areas is broken down into smaller areas with the ratio 0.62 by placing important parts of the scene at those points. That number is sufficiently close to 2/3 or 3/5 that for most purposes in art those simpler numbers will do. For some reason we find those proportions pleasing. The maths is interesting, but not everyone believes the applications to nature or art.

On a more prosaic matter, Melanie buys her frames from easyframe.com
Friday 5th March
AGM
Painting challenge "Ring out the old, ring in the new" results.
Friday 9th April 7pm
Martin Ireland
Martin is a local Artist. He gained a BA Hon's in 1987 and has exhibited in many galleries across London including the Mall Galleries and the Strand. He has an impressive record of solo exhibitions, contributed to prestigious publications and has his own public collection at the National Maritime Museum Liverpool.
This s a link to view a recording of the demonstration which will be removed after 30 days.
https://drive.google.com/file/d/1ZeCabRB7mdN02S_jnnTs8ZVHdDCjXgjD/view?usp=sharing
Martin Ireland 2020 statement.
"I record everyday life I sketchbooks and photographic journals. One of the pleasures of my job is to go to Tooting Bec lido to draw. What makes the place so special is the seasonal quality and changeability of light throughout the day. It's just as fascinating to visit at opening times early in the morning, then when it's busy with hundreds of sun-worshippers enjoying the heat of the day.
I'm also interested in watching people. As a figurative painter there isn't a better stage than Tooting Bec Lido to study the human form in or by the water. Leaves in the water always gives me the impression that the pool is more of a 'bec' than a swimming pool, a natural oasis in the busy city.
I find that people are more relaxed when stripped down for swimming. It's more revealing and therefore more of themselves. The lido is an ideal place for taking a sideways look at things, including the comedy of people at play in water.
I was brought up by the Thames so, for me the lido is important in fulfilling the need for space and nature. It's a king of refuge, an oasis in the city, the place where people meet and carry on the conversation that had been interrupted by reality between swims. The place and people are the starting point for triggering ideas for paintings.
There needs to exist within the work, a degree of tension between carefree figuration and anatomy where the surface image begins to break down, enabling the work to suggest possibilities of movement, to begin to exist on one's own terms. So the paintings are about light, movement and surface"
Artist demonstration by Martin Ireland for Bromley Art Society 9th April 2021.
Martin presented on Zoom from his studio in Balham, South London. Around ten years ago he swapped from watercolours into oils which he finds better for flexibility and creative development. Oils can be used with the thinness of watercolours but wiped off the next day, sanded if dry or simply over painted. Galleries also prefer oils and artist can charge for more.
Members voted for Martins image of the "Free Swimmer" above for the presentation.
Martin painted on MDF board ½ cm thick which was primed with two coats of gesso and tinted to subdue starkness of white. Painting on board enables him to crop a painting which otherwise could not be done on canvas.
His preferred oil colours brand is Michael Harding for there richness of pigment. Cass Art do their own more economic version.
Martin takes his own wonderful image reference photos from both an aerial and underwater perspective.
Martin uses he method of "Colour Field" which involves dividing paint into: white, black, hot and cold colours rather like a digital palette does. He uses a white piece of card to creatively mix colours and tones and match them with the reference photo.
He starts with thin paints and "codes" or sketches the painting marks. Normally he uses 4 – 6 sketches for a painting and selects the best in terms of tones and composition on which to base his final work.
His painting will not copy detail but will simplify and edit out or rationalise with an abstract eye.
His paint will become thicker as he introduces detail and highlights to his work.
Martin mention that he achieved his collection at Liverpool and Tooting Beck lido through being given an artist in residency in each location for a year each. He has also featured on Sky's Portrait Artist of the year.
During the intermission talked of his initial inspiration of David Hackneys "pool" paintings and his admiration of James Morrison's recent documentary on BBC 2 – If you missed it it can still be viewed on YouTube at https://youtu.be/b4JDS4jdU6A?list=PL1wxupznw8KnjlAfxhprqhw5KYk8T6URt
We also discussed the merits of painting on silver aluminium or foil or glass with oil or acrylic as an experimental approach which seems to work quite well.
One of the tips Martin gave in how to control a Rigger brush was to pull it toward you not push away from you.
Martin then finishes his painting with texture and definition which it shared above.
Bromley Art Society thanks Martin for an excellent demonstration provided at very short notice.
Thank you to Martin and all participating members.
Paul Stringfellow
http://martinirelandart.com/home
Friday 7th May
Tim Wilmot
Landscape watercolour
Tim Wilmot is based in Bristol UK and a 100% watercolour artist.
"So I've painted on and off all my life. I love watercolour. Most people say it's the most difficult painting medium to use – after all if you make a mistake, that's it. Do the same in oils, and you can paint over it. So it's the challenge I think with watercolour to pull a painting off, but also it's about some of the unique things you can do with watercolour that is difficult or impossible with say oils – e.g. try and do what they call 'wet in wet' in oils! I also love the spontaneity of watercolour and the speed at which you can work, often being able to complete a painting in under 2 hours. Also the freshness you can get with watercolour, the attempt to make one brush stroke work just right and it communicates exactly what I want".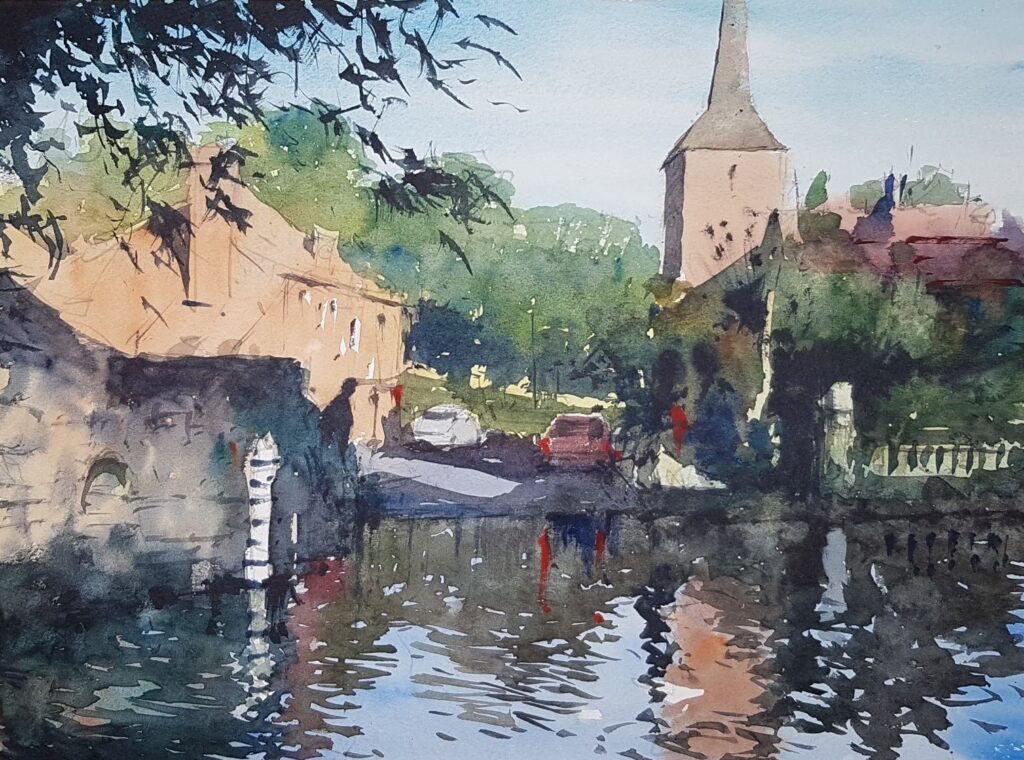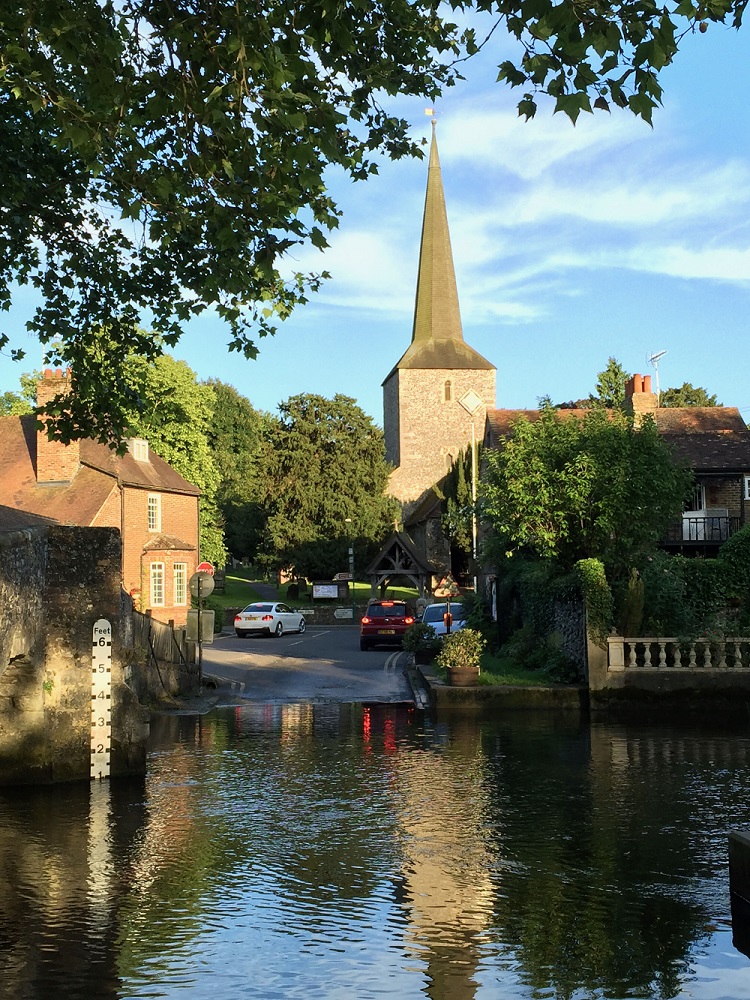 Friday 4th June
Colin Barnett
Abstracts
Tonight's demonstration is by one of our popular own members and says of his demo;
"Here is a general breakdown on my abstract journey and a basic breakdown on what I will be showing.

First off, my view on abstract creation is extremely broad and open. The intention is not to have an a pre-planned idea of what the end goal is, or what a piece will end up looking like. For me it's ultimately about emotion, expression, creating visual interest, pleasing to the eye and the enjoyment of experimenting.

I have never been a great fan of abstract Art, but when I decided to give it a go, a few years ago. There was no turning back. The demonstration time is limited, so I will do 3 fairly basic paintings to stay within the allotted time. The techniques I use are mostly layered, which means drying time between them, so I will do a few prep 1st layer dried pieces (before I start) to show a more in depth view of my layering process.
For the Acrylic pouring, it involves a lot of time consuming paint preparation. Which I will explain also.
The paint styles I will do are:*Acrylic pouring – swipe/dirty/ring (all 3 if time allows)*Palet knife colour swipes on canvas sheets.*Alcohol ink on Plastic.

Here are some examples of what I done, so you have an idea of what to expect. Obviously nothing will be exact replicas to what I have done before, as every piece is about how the paint moves etc…
Regards Colin"
Here is a link to a video recording of Colin's Demo for BAS https://youtu.be/8292mupu3Mo
Links related to the Zoom demonstration you may be interested in:
https://www.amazon.co.uk/Your-Five-Year-Could-Have/dp/0500290474/
https://www.amazon.co.uk/Digital-Jewellery-Weighing-New-Horrizon/dp/B08813G3VS/
https://www.elmers.com/
https://paintersworld.co.uk/floetrol
https://www.handprint.com/HP/WCL/tech13.html
https://www.hobbycraft.co.uk/finger-painting-tray-18cm-x-24cm/582523-1000
https://www.amazon.com/Bellemain-Condiment-Squeeze-Erasable-Reusable/dp/B07HB8RJD4
https://fluid-painting.com/en/acrylic-pour-techniques/
https://www.amazon.co.uk/Dokpav-Colourful-Drawing-Plastic-Decorative/dp/B084ZKFHV4
https://www.amazon.co.uk/OGX-Nourishing-Coconut-Anti-Breakage-Serum/dp/B0049SHP1G
https://www.jacksonsart.com/tri-art-liquid-glass-silicone-oil-cell-flow-medium-60ml
https://acrylicpouring.com/testing-dimethicone-day-3-coconut-hair-serum/
"Dutch Pour" Originally coined and created by Artist Rinske Douna (who is Dutch)

Use at your own risk
https://leftbrainedartist.com/best-torches-for-acrylic-paint-pouring/


Friday 2nd July
Peter Richards TBA
"The work I make as an Artist, mainly abstract paintings made with rollers, fingers and even brushes, are intended to be looked at slowly and given time to 'speak' to the viewer. They are intended to be the subject of your contemplation, to be lived with, to be seen when you have time. My wood-cuts also rely on colour combinations for your eye to enjoy and are both abstract and landscapes. I make small wood-cut seascapes and abstract works using oil-pastel and litho-inks".
Friday 6th August
Summer break
Friday 3rd September
Greg D'Souza TBA
Critique
Friday 1st October – Friday 5th November TBA
Friday 3rd December
Christmas Event